World Player of the Year 2009 Heavyweights: Who are the contenders?
As another season approaches its end, another career defining award must be given: the ever illustrious FIFA World Player of the Year Award.
Cristiano Ronaldo scooped the award with sheer ease for 2008, having scored a record breaking 42 goals as a winger inside the games toughest league- the Premier League. Messi was the closest challenger, however, the proximity of that challenge was nothing short of feeble. To be fair, Messi began his season injured, just as Ronaldo has this season, so if Messi were to win it this year the competition and resonating rivlary would be nothing more than even.
It is no coincedence that when Ronaldo was not playing at the beginning of the season, that Manchester United struggled to even win a match. What we witness today with Ronaldo is the beginning of a phenomenon, and in the other corner? His arch rival.
The constant 'who is better' arguement is strikingly similar to the never ending debate about hip hops illest: Biggie or 2pac? Each have their strengths and weaknesses, but at the end of the day the only thing seperating these two at the peak of their game is opinion. Where Ronaldo lacks ball control, he makes up for in speed; where Messi lacks in heading ability, he makes up for in extraordinary dribbling.
For the less informed, the pros and cons of the games two greatest modern day players follow an interesting concoction of strengths and weaknesses.
Lionel Messi: Without doubt, casts the greatest ball control and dribbling skills in the world. His heading ability is not so impressive due to his small size, but his shots on goal are frighteningly driven more so with accuracy rather than power. Messi doesn't need to kick the ball the hardest, he simply aims the ball as though we were playing FIFA 09 on Playstation 3- his shots are artistically beautiful and his placement delicate. Coming to Barcelona FC, the legendary Ronaldinho took him under his wing and taught him every trick in the book- 'til this day, the two remain best of friends. On the not so glamorous side of things, Messi is injury prone, not the strongest player physically and often has trouble facing 2 or more defenders.
Cristiano Ronaldo: The boy from a small town in Portugal who has won virtually every single football award possible by the age of 23. Ronaldo possesses Bugatti-like speed, literally. There is a Youtube clip of the boy himself racing a mean Bugatti and coming out on top. His speed is so distinguished that the fastest man in human history, Usain Bolt, has volunteered to become his personal sprint trainer. Ronaldo scores as many 40 yard screamers and he does headers. His free kicks? The world has not seen the likes of his style, accuracy and skill since David Beckham. The part where he has one over Messi is he rarely gets injured, and can sprint through an entire backline of defenders like the TV Set is on fast forward. The cons? Due to his exceptional speed, when tackled he tends to fall down in a heap, but given how fast he is running it is seemingly impossible not to. This is an area where Usain Bolt has opted to help the Portugese maestro.
The Verdict: Messi may have scored more goals in La Liga this season than Ronaldo has in the Premier League, but one must intelligently take the situational factors into consideration. La Liga virtually employs a defensive-less backline in their games, and instead play attacking football. Naturally, the goal tally will be slighter higher than other leagues whom employ a tough defense, such as Serie A and the Premier League. Ronaldo has been an integral part in his side winning the Premier League for a third consecutive year in a row now, whilst Messi has recently won La Liga with Barcelona for a second year in a row. Ronaldo is the leading goal scorer for Manchester United, Messi is the second biggest goal scorer for his side, just behing Samuel Eto. All in all, the two players are even, except for when it comes to this seasons Champions League.
Messi is currently the top scorer in the Champions League, but most of these goals have come from weaker teams. In fact, Barcelona did not have to face any difficult matches until they ran into Chelsea, where Messi was no where to be seen. In all of the big Champions League matches, Messi has simply flopped; conversely, Ronaldo has prospered against his mythical 'big game flop' reputation and scored braces against the likes of Arsenal in the semi finals, amongst an array of game defining goals against extremely difficult teams. In fact, it would be fair to say that the only reason Manchester United have made it this far in the Champions League is due to Ronaldo's superb goals in critical circumstances.
If we are forced to split the atom, then this is it: No matter what way you look at it, these two are equal in their accomplishments this season. What they've meant to each of their respective sides cannot be divided. Perhaps this is why this seasons Champions League final is so badly anticipated- it may just decide once and for all who deserves the World Player of the Year Award more.
Prediction: Barcelona will have a difficult time trying to put one past Manchester United, and if United create history by winning the Champions League title back-to-back for the first time ever, then one can rest assured that Ronaldo will have a defining part in it. If United win, then Ronaldo will surely lift the award once more.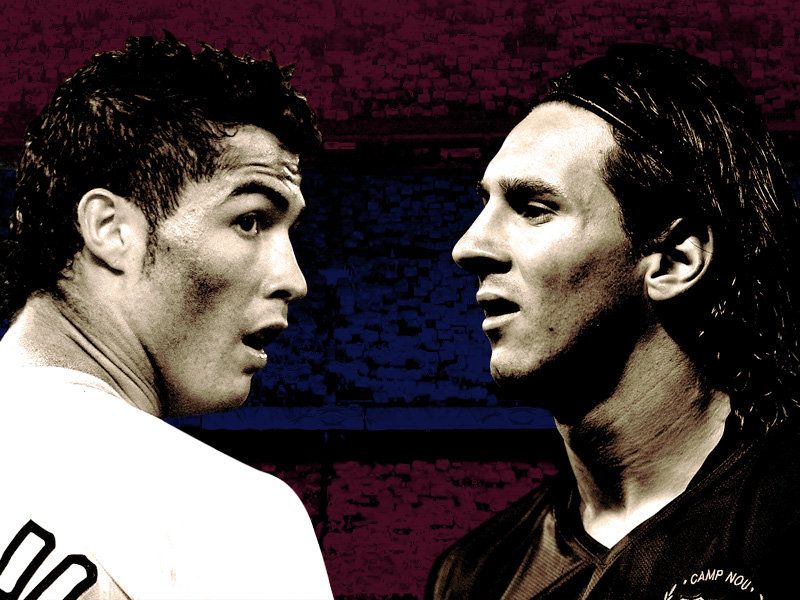 Share and Enjoy
Related Posts

6 Comments